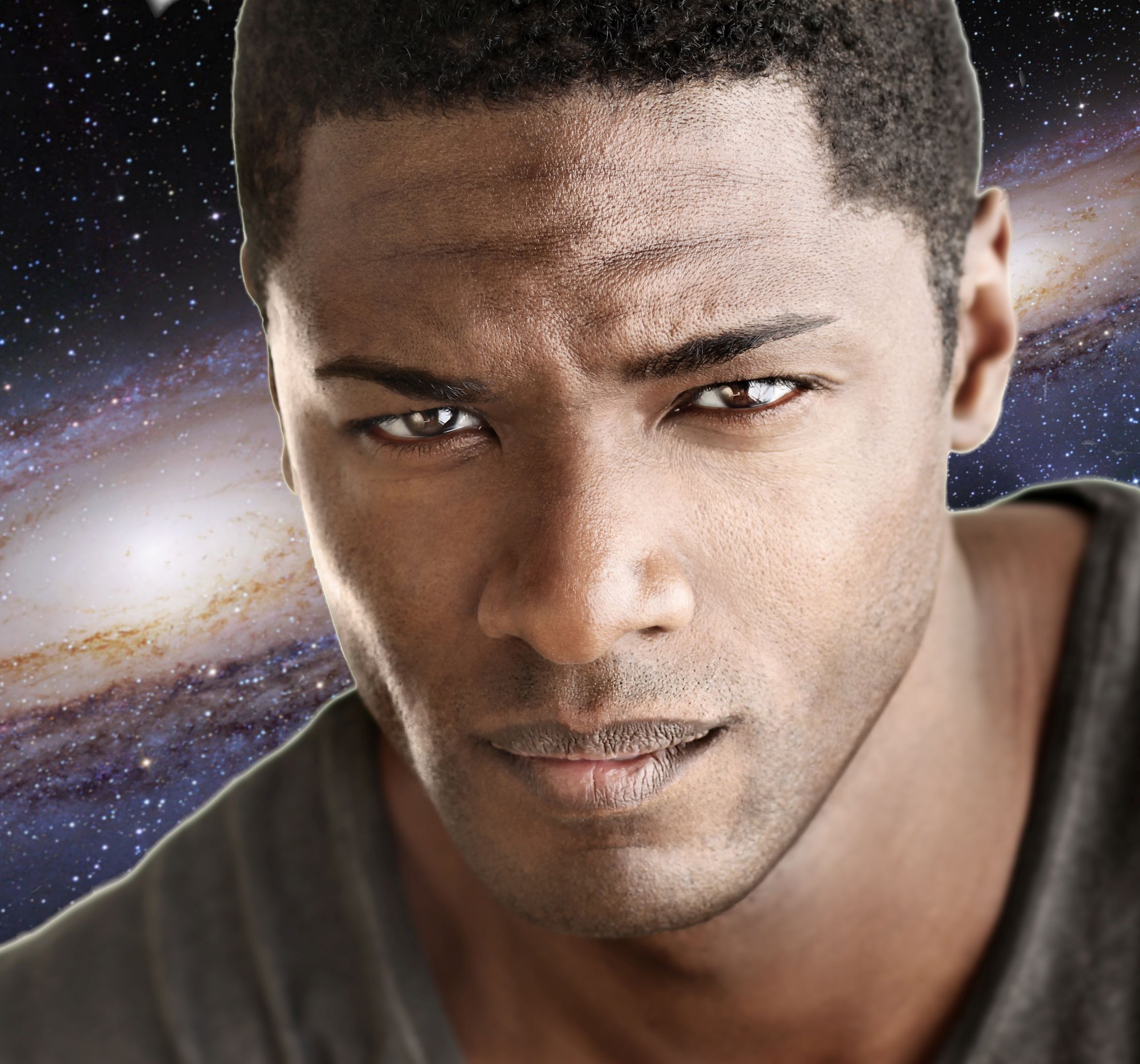 TITAN
Another section of the hull fractured and buckled under the weight of someone's rage.
"It's not a bluff," Titan said. The smell of fear and desperation filled the bridge. "There are officers who could destroy this ship."
"They won't," Lily said. "We're allies of the Balaurs. Of the Sciarras! Of the Warmonger crews. No one would dare go to war with us again." Her face turned dark with rage. "I have other allies. Other weapons. I'll take them all out." She whipped around. "Put that out," she ordered the comtech. "Tell the Allied crews to back away or I'll fire on their home ships. I'll kill their children if I have to."
"No!" Titan strained against his shackles. "Belay order!"
The comtech hesitated, torn between duty to crew and fleet.
Titan sucked in the hot, stale air. "You can't. Lily, it's not the Allied crews. Carver would never do this. The Captain's Council would never allow an attack. They would never get together that fast. This is one person. One Elite."
She narrowed her eyes. "I can destroy one person."
"You can't." He shook his head, ready to beg. "If it's who I think it is, she has a ship in orbit that will take us all down." If it was Selena, she was probably expecting him to rescue himself. "Give me an open line. Let me talk to whoever is out there. I'll negotiate. For you. Whatever it is you want, I'll find a way to get it for you if you'll let me stop this."
The comtech jerked his chin in an eager nod. The rest of the crew had fallen silent. The Acontinum floated there, wrapped in a deadly cage of telekyen and power.
"Please?" His voice shattered with fear.
Lily drew in a deep breath and her rage returned. "You had your chance. You had thousands of chances to give us what we were owed! You're a traitor, and I'll see you die as one." She nodded. "We don't need to teleport out. Bring the secondary engines online."
"The old garbage burners?" The comtech asked in confusion. "Do those work?"
"We used them a few times during the war. They're slow, but they'll get us over the wall."
"But… the shield?"
Lily lifted her chin. "It'll be down."
The techs scurried, rushing to secure themselves as the old tub rumbled.
It was a fight they couldn't win. Maybe with a good crew, an officer or two with elite ranking, and some backup they'd have some hope, but like this? "It's suicide," Titan said. "Surrender so your crew doesn't suffer. Lily, you need to surrender. It's the only choice."
"Incoming message from the Golden Apple," the comtech reported, sounding happier than he should. "They have a sniper trained on the person below. There's obscuring shield, but they won't be expecting a grounder weapon."
Lily smiled down at him. "Surrender is for cowards and traitors. I'm neither. Mister Esmer, tell the gunnery crews to go to their stations. Let's see what the Allies think when we show them how we've spent the last few years."
"Aye, ma'am," a deep voice said behind him.
The bridge blurred as war memories threatened to engulf him. The feeling of utter helplessness that he'd felt when he was trapped in the medbay watching Mal and Rowena fight ran like ice through his veins. They'd had each other in the end, but Selena had no one.
He couldn't let the Sekoos hurt her.
Titan braced himself for discomfort and turned his implant on, it was the only way. Fire and crippling pain crawled up his arm. He focused on the wires connecting him to the torture device, blocking everything. Still, in the background he felt an echoing scream of anguish.
Selena had connected to him and was sharing his agony.
Shaking, he fused the wires, melting them so they fell away from the cuff.
The hull buckled rapidly, sending screams of the terrified gunnery crew into the confusion. Running boots echoed ahead of the stale air rushed inward as the ship was devoured.
Aching, Titan stood as the light flashed out, cut with the power. Out. All he needed was to get out. But he couldn't draw on teleport coordinates. He couldn't focus. He closed his eyes, trying to find the one thing that would get him out.
And then the ship was gone.
He was standing outside, in the sunshine, staring at the rapidly constricting hull of the Aconitum crumpling into a ball, eclipsing the sun. The air hummed with a fury and a power.
Staggering, he looked around at the fallen Sekoos lying in the dust where there ship had been. They were all alive, although at least one of the men wearing a gunner's uniform had a broken leg. He watched them, waiting for a response, but the stayed down.
It was the first smart thing they'd done.
Taking a deep breath of air chocked with dust he turned.
Selena stood alone, hand outstretched, glaring at the Sekoo's ship.
The rest of Enclave was unusually silent, accenting the sound of screeching, tearing metal.
Titan limped toward Selena. Something was wrong. There was something catastrophically off and he was too muzzy headed to recognize it. "Selena?"
She didn't acknowledge him.
"Caryll? Captain?" He reached for her hand and the air sparked bright green and gold. "Selena!" He shouted to get her attention. His words reached his ears muffled by unmoving air.
Titan looked up.
Nothing was moving in Enclave.
The dust he'd kicked up trying to reach her hung in the air.
Crews who had run outside to find out what the noise was were in a ring around them, silent and unmoving. Soundless. Not breathing….
He took a deep breath and tasted the same stale air. The kind found on dead ships and in very dangerous shields.
Selena hadn't just put a battle shield up, she'd locked one down. This was a containment field. Isolating everyone. Limiting their movement.
He was the only one able to move through the mess.
:Do something!: It was Rowena on a tight beam.
He looked up, saw her trapped on the edge of the field standing next to his aunt. Their faces were a rictus of fear.
The sound of tortured metal stopped and the sun grew bright again. A ball smaller than his fist – all that remained of the Sekoo's warship – dropped to the ground like a bomb.
"Selena," Titan tried again. "I'm here."
"They hurt you." Her voice was distant, her eyes unfocused. The pain had drawn her back into the war memories. Whatever she was seeing was a ghost of the past.
The closer he drew to her the thicker the air became. It was like walking through thick mud. Every breath was a struggle. "Selena, you have to let them go. You have to let everyone go or you'll kill them."
"They deserve to die."
"Maybe." He pushed as far as he could on trembling legs. It wasn't close enough. "Maybe they deserve this. Maybe the whole fleet deserves this for what we did. But not you. You don't deserve to take this pain."
Her eyebrows drew together in frustration.
"You're not a killer," Titan said. "That's the one thing you have that no else can claim. We're all battle-scarred. We're all broken. But you're bloodless. You don't ever need to fall asleep remember the face of people you killed. You can't. I know you, Selena. I know your thoughts, your heart, you'll never forgive yourself for this if you let them die."
The air shivered between them as a sea breeze snuck through her defenses.
He took a step forward. "Please. Not for them. Not for me. Please let them go because I can't lose you, and I will. This will destroy you, and then I'll be alone." The air was getting easier to breath.
Selena reached out along their shared link, gently assessing the damage. Then the containment field snapped back in place. "They hurt you."
He fought his way through the shield. "Not that badly.
Titan wrapped his arms around her. The sleeve of her blouse slipped up above her elbow revealing four deep, silver scars that merged into three.
"I don't want to have another war. I don't want to hurt like this." A tear shimmered at the corner of her he.
He smiled, then bent to kiss her neck. "Love, I'm fine."
Her hand dropped as she shook. The terror and rage were seeping out of her mind like a poison. "They made you bleed."
"I did that by pulling an IV out."
"They're monsters." The Golden Apple, the Sekoo's family ship filled with their remaining crew, trembled. An engine collapsed on itself.
Titan held Selena tighter, trying to make her turn away from the remaining Sekoo ships. "Yes, love, but so are we all. Made of flesh and machine, cut off from the stars of our homeworlds. We are not the children our ancestors bled for, but we're here. Making the most of every day we have. Making good choices and bad, because we're human, and we're only human if we choose. Right now, I need you to choose to forgive. To let them go. Please, Selena? Come back to me." He turned her around so she could see his face.
The blue of her eyes burned brighter than burning copper chloride. "They hurt you."
"Not badly. I'm a guardian, a Sciarra, I can take a beating." He felt rather than saw her rage. "No. That's not how this ends. You can't destroy all their ships."
"I could." Her voice was calmer now, not threatening simply stating a fact.
He believed that. "It's not the right thing to do."
Selena took a breath, hesitating, uncertain…
"Drop the shield. Let the guardians take it from here. There's more here than me being a little bruised. This is an attack on Enclave. On the fleet. And, right now, you're the biggest threat. No one can breathe."
She closed her eyes. For a moment it was like holding a statue; he couldn't even see her inhale. The shield fell as she opened her eyes.
Air rushed back into Enclave with a clap of thunder.
Noise returned, a babble of voices and chaos.
People pinged him for information. The guardian's channel was in an uproar. Every Sciarra demanded to know where he was.
Selena stood still, cold and beautiful as moonlight in the darkest night.
"Titan!" Elea pushed through the crowd with Rowena on her heels. "What happened to you?"
He opened his mouth to lie when a scream interrupted him. Turning, he saw Lily Sekoo stumbling forward.
Lily staggered to her feet, her face a rictus of pain and wrath. "How dare you?"
The crowd widened, leaving room for what everyone likely saw as a personal matter.
:Carver,: Titan pinged his commander. :Now would be an excellent time to stop the next war.: It was all he could do to stay standing and keep Selena from going nova.
Perrin Carver and Hollis Silar teleported in front of Lily.
She screamed wordlessly.
"Technician Lily Sekoo, you are under arrest," Carver said, voice low and calm.
"You have no rights! No right! I'm a pureblooded daughter of the Empire. I was born to better things than licking grounder feet and bowing to weak fools." Lily glared past the guardians to Selena.
Selena started. "Weak?" Her voice cut through the morning air like a knife. "You think I'm weak?"
"You let me live," Lily said.
For a moment Titan thought Selena might change her mind about that.
Then she nodded. "Yes. I did. You will live. You will remember every choice you made. You will remember every single thing you did. It will replay in your mind until you lose your sanity. And even then, it will flay your soul so when your broken, withered body finally falls silent, there will be nothing for your ancestors to find. I let you live. Welcome to hell."
Meet The Characters
Add to GoodReads
Ready to read the ending? BODIES IN MOTION is out today everywhere books are sold! Grab your copy now!
Amazon | Barnes and Noble | Kobo | Inkprint Press